Gravity Global & 3M present Title IX: 50 Years of Progress
In 1972, the federal government passed Title IX. The statue guaranteed a means to ensure equal access for women to education. But what it's most famous for is entitling women the same athletic opportunities as their male counterparts at schools. Fifty years later, Gravity Global, the world's most awarded specialist B2B marketing agency network, and 3M, a Fortune 500 company known for its scientific, technical and marketing innovation, joined forces to celebrate Title IX and its epic role in advancing equity in sports. Together, we created an NCAA Women's Final Four experiential activation, featuring 3M science and innovation, at Mall of America.
The core of the experience centered around celebrating Title IX by inspiring student athletes to DREAM BIG for their futures. Over 1,000 students and athletes wrote out their dreams and signed their names on 5'x5' sections of 3M™ Scotchcal Screen Printable Film (the same graphic film that helps auto owners express their personal style on cars) at various female sports tournaments and events across the state of Minnesota. The signed film sections were combined with two other layers of 3M films and iridescent design elements to construct the #3MCourtOfDreams basketball court at Mall of America. The activation lasted a week leading up to the NCAA Women's Final Four Tournament.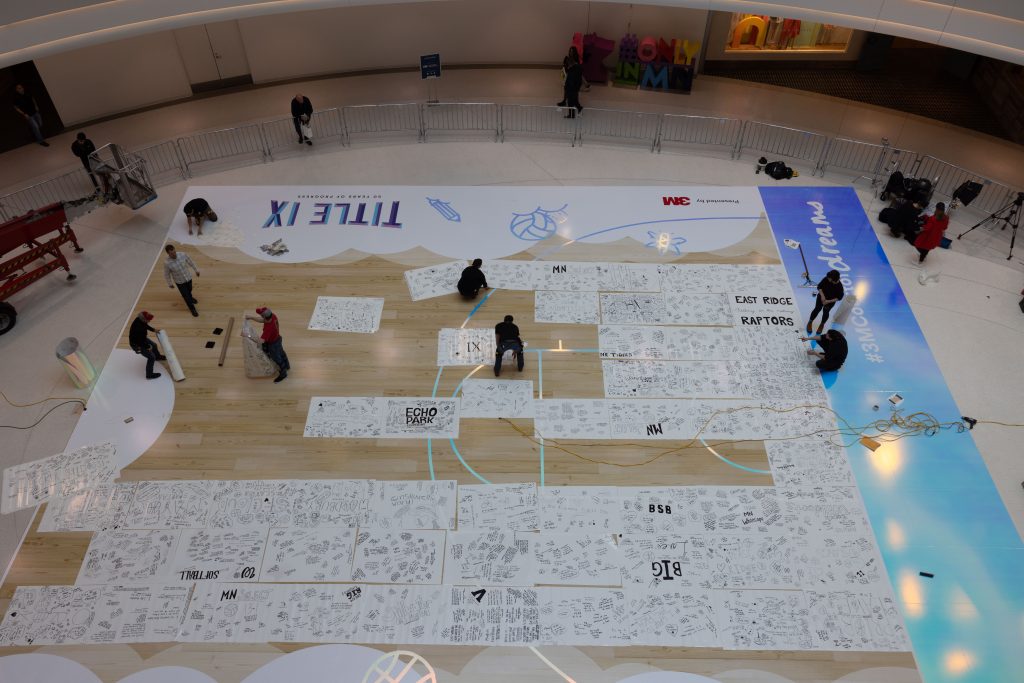 While it was important to consider NCAA women's basketball fans and enthusiasts that may seek out experiences related to the Final Four tournament, we also sought to include a broader and more diverse audience segment to ensure the activation could captivate, engage, and delight general basketball fans, families, and mall shoppers who may be interested in new, exciting, and free experiences alike.
We also aimed to reach a more general audience of potential 3M customers (consumers and/or B2B) who may interact with the brand and value 3M's commitment to equity.
To ensure a successful activation, our agency exemplified a true sense of collaboration with our client and external partners. The event came to life with partnership from Mall of America, multiple graphics manufacturers, application engineers, installers, and 3M PR teams. This expansive team helped build the court that served as the arena for a series of community events/activations throughout the championship week, as well as a stand-alone art activation.
The activation also included a striking tiered hanging confetti installation, made from 13,720 3M Post-it® Notes, an on-site "Dream Wall", and iridescent glass finishes wrapping the glass balcony on the second level of the atrium creating a visually stunning experience that invited attendees to pause, participate and celebrate the accomplishments and dreams that Title IX has helped make a reality.
We created video assets to showcase each phase (concept, community engagement / dream capture, 3D visualization, installation, & event engagement) to help document, enrich, and amplify the presence of the activation and 3M's role in honoring such an important anniversary.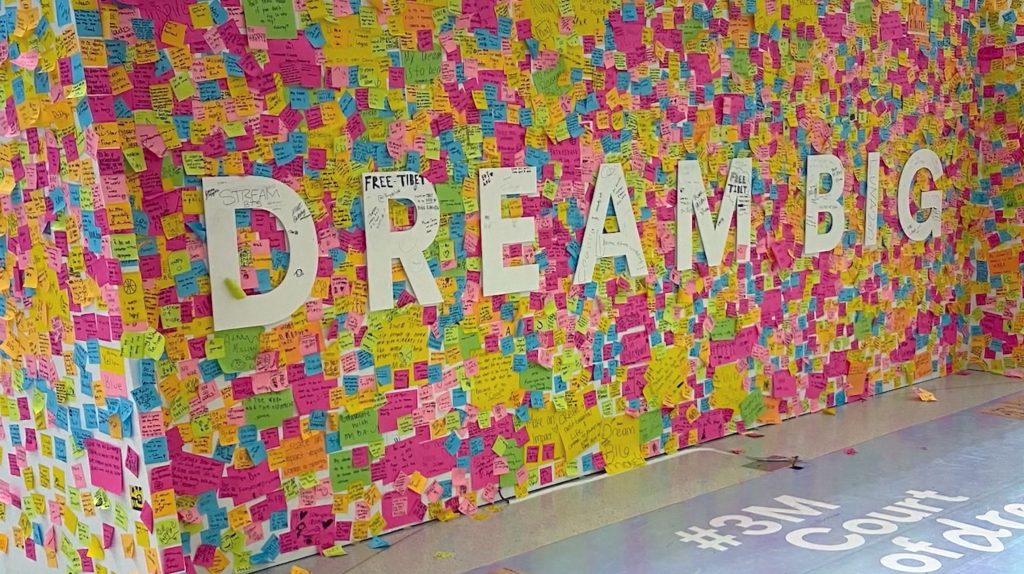 The activation and videos provided a creative and compelling opportunity to promote social sharing and engagement within partner audiences and community sports and education programs. This resulted in over 6,300 social likes, 115 comments and 64 shares.

Through this heightened awareness came media coverage opportunities, involvement from key Title IX opinion leaders, a performance by Minnesota Vikings Drum "SKOL" line, and a celebrity appearance from former Bachelorette, Michelle Young, at the event "tip-off".
While we've come a long way in the fight for equality, we still have a long way to go. We are proud to have creatively maximized the budget and opportunity to properly honor and celebrate the 50th anniversary of Title IX, push for change in our local communities and make a positive impact on society.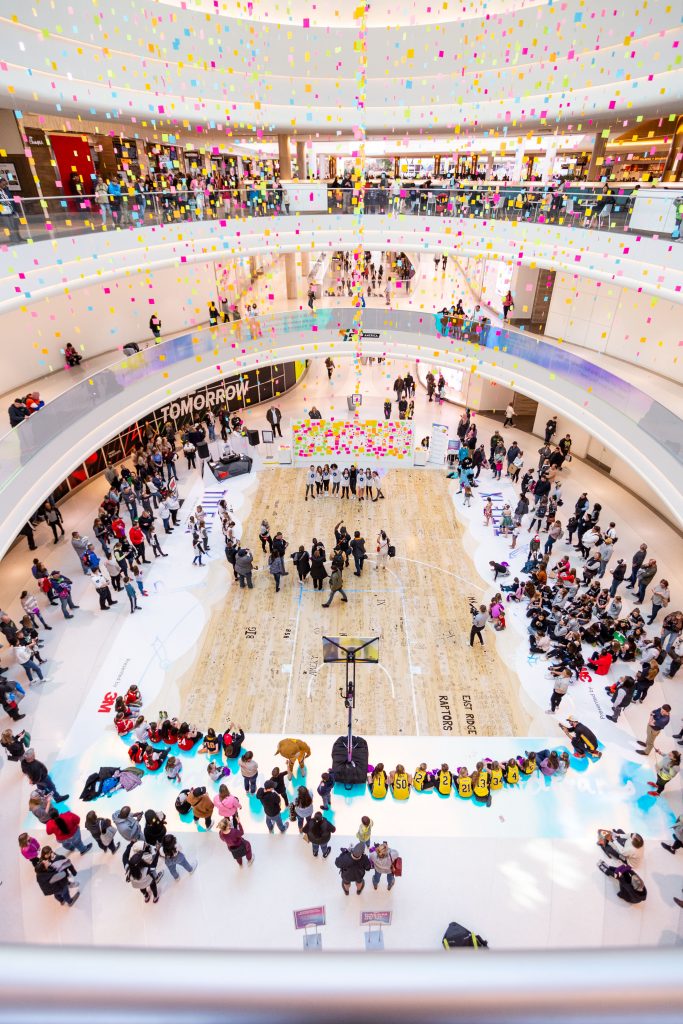 We entered this project for a US Agency award because in addition to being an outstanding product of creative thinking, collaboration and hard work—it's a project that celebrates equality. Equality is essential to improve education, create healthier communities, and reduce poverty and violence. Essentially, this project celebrates helping make the world a better place. And if we're not doing that, what are we doing? Making the shortlist fills our team with pride. We worked tirelessly on this activation on a very tight timeline and an even tighter budget. We persisted because this project aligns with the Gravity Global mission to work with brands that make the biggest impact on our world's future. Title IX created positive change for the nation and it's worth celebrating. Our work getting recognized communicates that we're not alone; others can see the importance of this project as well. Nothing's more encouraging for the future than the thought of all of us working together as a force for good.